2017 Concert Stage Event Stage in Stage Factory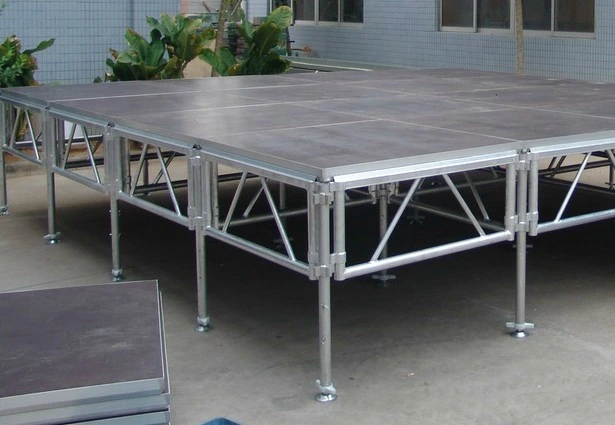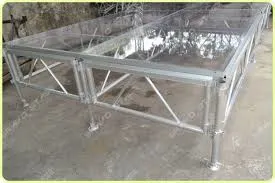 Features
1. Our aluminum stage is designing for the outdoor or indooor events
2. The height of legs can be adjustable or fixed, it is movable
3. Good loading capability
4. Easy to set up and remove, convenient transportation and save time, smooth running, reduce vibration
5. The colour of the floor and stage size can be changed according to custermer's requirement
6. This product usually used for events, parties, model shows, music shows, fashion shows, etc.
7. It is very popular at stadium, mostly use in project, lighting truss, stage truss, spigot truss
1. Efficiency
Every stage is single one you can assemble it without any tools.
This can save a lot of manpower.
2.Durability mobile stage platforms mobile stage platforms
Aluminum frame enhances the durability of the riser,providing a rigid quality product for years to come. This can make your stage platform build and carry without any damage to your patable stage
so the durability just right for you. This money is worthy.
3.Vatiety
Choose from a Variety of patable stage surface finishes and colors to meet you need.Surface options: plywood, tempered class ,acrylic
4.Heavy load
Strong aluminum frame and 18mm thickness partform can load bearing 750kg/sqm.
Our company general specification for stage is 1.22m*1.22m, 1.22m*2.44m. Height: 0.6m-0.8m. The height is usually fastening.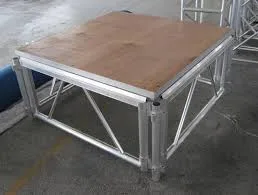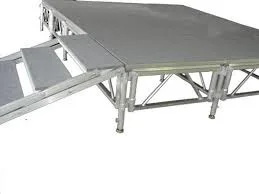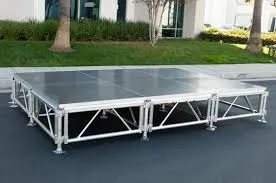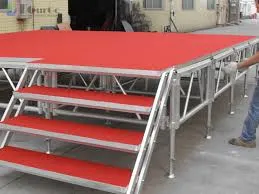 WELCOME TO VISIT OUR FACTORY^_^
Contact person: Settle Y
Mob:+86 13828460484