Product Description:
Overburden Casing System, also named Eccentric Casing System, is suitable for drilling water wells, geothermal wells, short mircopiles,medium mini-type grouting hole of building, diamond harbour project.

Economy: Eccentric is the most economical solutions because its ingenious reaming wing the bit is retrievable can be used at the next hole.

Working Principle:

When drilling, the reamer bit will rotate out to enlarge the hole which enough for the casing tube slide down behind the reamer. When reached required depth, the drill pipe will drill to the reverse direction and the reamer bit will retract, It is allowing the whole drilling system to pass through the casing.
Competitive Advantage:
• High grade tungsten carbide inserts

• Bit bodies manufactured from high grade steel and processed using state-of-the-art CNC machinery and heat treatment
Specification:
Part
Model
PA90
PA115
PA140
PA165
PA190
Casing Tube(max.O.D.)(mm)
115
142
171
195
222
Casing Tube (min.O.D.) (mm)
102
128
155.6
182.6
205
Guide Sleeve
Effective length: 174mm
Effective length: 174mm
Effective length: 205mm
Effective length: 225mm
Effective length: 250mm
Drill Pipe
Connection Thread: API2 3/8"Reg; O.D.: 76mm; Wrench Flats: 65mm
Connection Thread: API2 3/8"Reg; O.D.: 76mm; Wrench Flats: 65mm
Connection Thread: API2 3/8"Reg
O.D.: 89mm
Wrench Flats: 65mm
Connection Thread: API3 1/2"Reg
O.D.: 114mm
Wrench Flats: 95mm
Connection Thread: API3 1/2"Reg
O.D.: 114mm
Wrench Flats: 95mm
DTH Hammer
DHD35, COP2, MISSION30
COP44, DHD340, MISSION40
DHD55, COP54, MISSION50
COP64, DHD360, MISSION60
COP64,DHD360, MISSION60
Casing Shoe
L3=90mm L4=55mm D3=101.7mm D4=93mm
L3=76mm L4=55mm D3=127.5mm D4=117mm
L3=90mm L4=63mm D3=155.3mm D4=143mm
L3=95mm L4=55mm D3=181.5mm D4=166mm
L3=110mm L4=70mm D3=204.7mm D4=193mm
Guide Device
L1=35mm L2=138mm D1=92mm D2=100mm
L1=48mm L2=136mm D1=115mm D2=126mm
L1=55mm L2=160mm D1=141mm D2=154mm
L1=61.5mm L2=181.5mm D1=165mm D2=178mm
L1=62.8mm L2=185mm D1=191mm D2=203mm
Reamer
D5=91mm L5=70mm Reaming Diameter: 123mm; Reamer has 4*Ф12 buttons
D5=114mm L5=89mm
Reaming Diameter: 152mm
Reamer has 5*Ф14 buttons
D5=138mm L5=69.5mm
Reaming Diameter: 185mm
Reamer has 7*Ф14 buttons
D5=164mm L5=79.5mm
Reaming Diameter: 211mm
Reamer has 7*Ф14 buttons
D5=185.5mm L5=90.2mm
Reaming Diameter: 237mm
Reamer has 7*Ф16 buttons
Pilot Bit
D6=90mm L6=59mm Gauge button: 8*Ф12 Front button:6*Ф10
D6=114mm L6=67mm
Gauge button: 8*Ф14
Front button:6*Ф12
D6=138mm L6=66mm
Gauge button: 8*Ф16
Front button:8*Ф14
D6=165.8mm L6=82.5mm
Gauge button: 8*Ф16
Front button:8*Ф16
D6=190mm L6=82mm
Gauge button: 9*Ф18
Front button:9*Ф16
Different Shanks: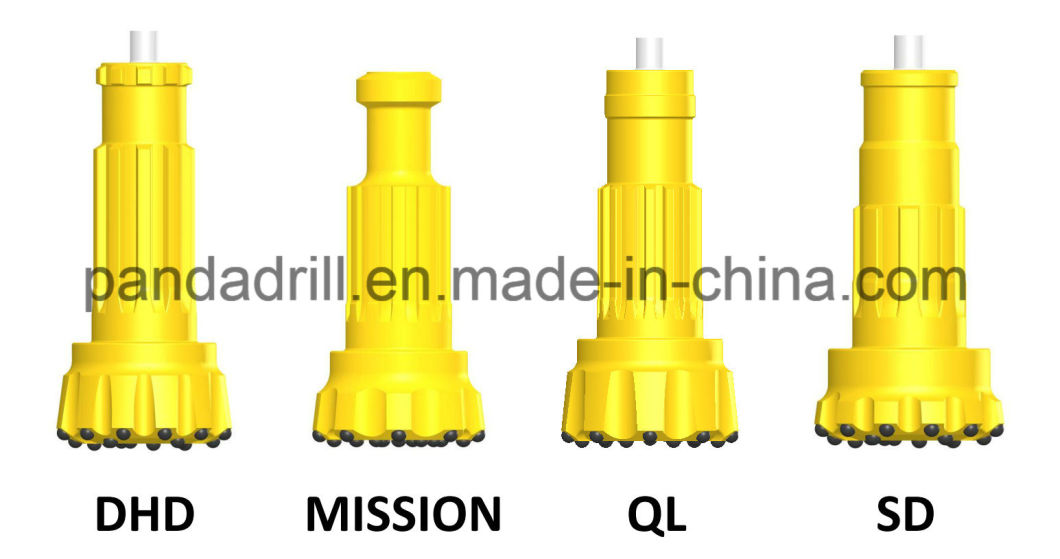 Different Faces Shapes: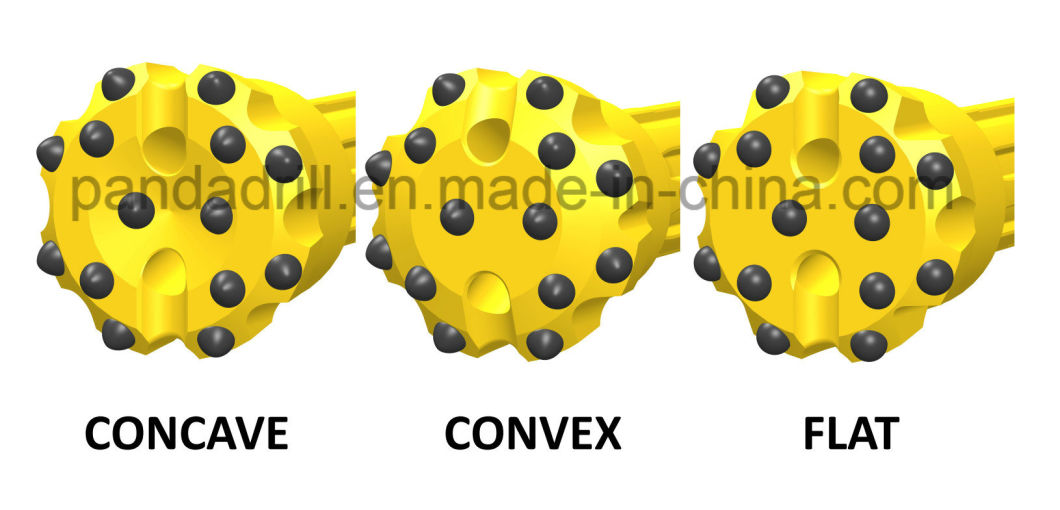 Different Buttons Shapes: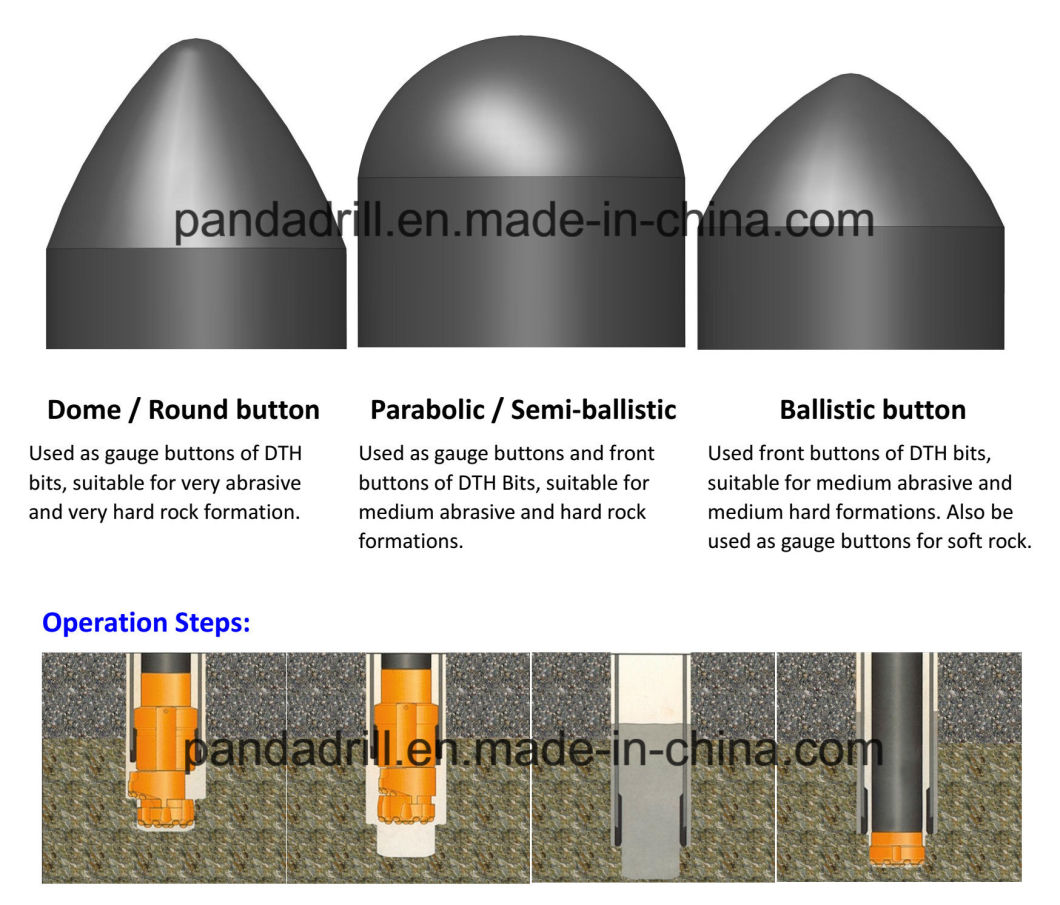 A:When drilling starts working,reaming sleeve will open,borehole range will increase,which will casing shoe and casing tube.
B:When finish drilling in overburden layer,pay attention to reverse circulation,reaming sleeve circles up,eccentric drilling bit lifts out from the borehole.
C:The casing that can be left in the borehole to prevent borehole from collapsing while pulling out pipe and grouting concrete.
D:Regular drilling bits can be applied to drill the depth as required in the rock stratum.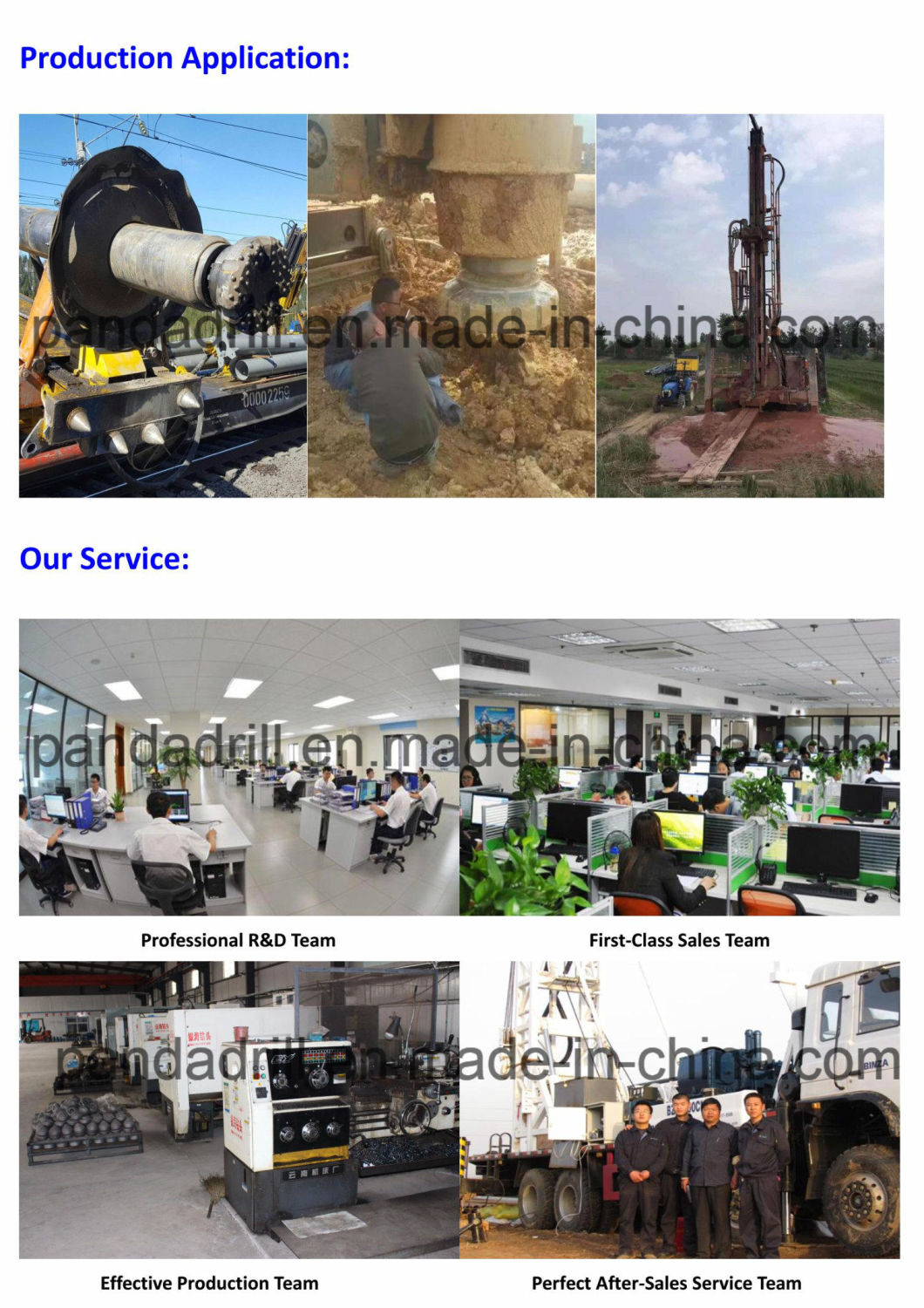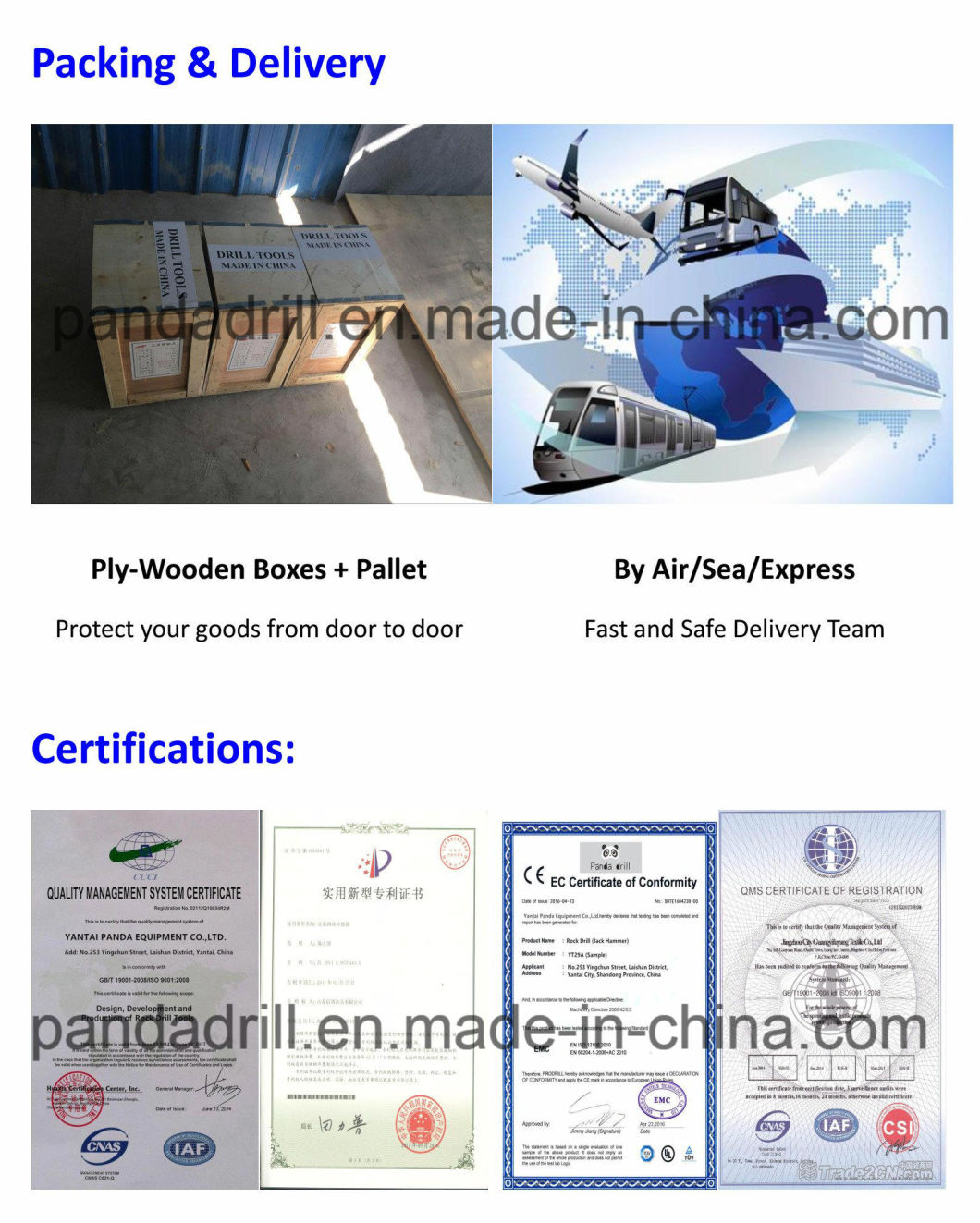 FAQ:
Q1: Can I have a sample for testing?

A:Samples are still to be paid but discounted price can be provided.

Q2: Do you have the inspection procedures?

A:100% strict inspection and testing for every order before packing.

Q3: How can i get the after sale services?

A:Free replacement will provide once the problems casued by our product quality.

Q4: Can I have a visit to your factory before the order?

A: Sure, welcome, here is our address: Yantai, Shandong.

CONTACT: